---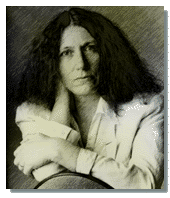 BIBLIOGRAPHY
Hanne Aga, writer
b. 1947, living In Tromsø, Norway

---
SKJERING MED LYS, poems
Samlaget
1981
FORSVAR HÅPET, poems
Samlaget
1983
HARD KLAR ROSE, an open story
Samlaget
1985
BROR SORG, poetic novel
Samlaget
1986
PRESIS OVERALT, poems
Samlaget
1988
UTAN BEVIS, texts for body and language
Aschehoug
1991
GÅ I SKUGGEN, VENT PÅ VINDEN, poems
Aschehoug
1993
KRAFTAS, poetry/narrative
Aschehoug
1994
SOLIS, poems
Samlaget
2000
EIT ROM Å FALLE INN I, poems
Solum
2005
The above sub-titles are all of course translations of the original Norwegian subtitles.
Member of Den norske Forfatterforening, The Norwegian Authors' Union, from 1983. Granted several Important government grants for artists. Blix-prisen, a literary price, 1990. Statens garantiinntekt. i.e.a permanent guaranteed income granted by Norwegian government to important writers, from 1991. Member of the literary board of The Norwegian Authors' Union 1992 - 1993.
Various public readings. A television program, Steinroser (Rocks/Roses) shown on NRK, the main Norwegian channel, in 1990, was in part based on poetry of Hanne Aga. In 1992 and 1994 she toured the north of Norway with a mixed consert/poetry reading program of which she also was the coproduser. She has also written essays on poetry and the revival of the linguistic idea of the body. She is represented in several antologies.
---